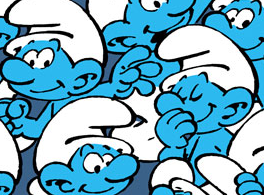 My most favorite cartoon in the world for life the "Smurfs"celebrated their 50 years throughout 20 cities in Europe today! The smurfs are very international and originating in France October 23rd, 1958. The first publication of the Smurfs or better known  as the Schtrompfs, appeared in the Belgium newspaper named Spiron with the French language.
The smurfs are very international and here are some of the names in other countries that I know of:
French –  Schtrompfs
English – Smurfs
Spanish – Pitufos
Smurffit – Finnish
On television in the USA the Smurfs endured 16 seasons and running 272 episodes which I have probably seen all 🙂 by Hanna Barbera.
If you're a fan or not its interesting to check out the Smurfs anniversary website. Its neat even if you're not a fan.
I actually have a collectible Smurfs pendant that my mother bought me as a child. I still have it. I'm not even sure which Smurf it is but I'm happy that I still have it.
My favorite Smurf – Brainy Smurf – he always messed up even though he thought he knew it all 🙂
Grumpy and Smurfette. Well I actually loved them all. And Papa Smurf the big daddy of all Smurfs 🙂